With No Games To Bet On Sports-Gambling Shows Pivot To Broader Focus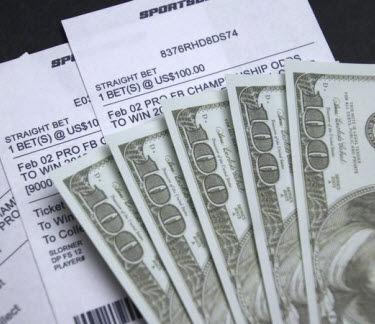 It was just under two years ago that a landmark Supreme Court decision opened the door to legalized sports betting in the U.S. — and with it, a piece of an annual multi-billion dollar pie for radio.
It didn't take radio long to see the potential. Fox Sports Radio launched a pair of betting-themed shows featuring Vegas sports-betting expert R.J. Bell. Beasley and other broadcasters began landing sportsbook buys.
JVC Media's "LI News" WRCN-FM Long Island, in partnership with Sports Garten Network (SGN), launched "Wanna Bet," NBC Sports and Westwood One launched "The Daily Line," "ESPN Radio 1000" WMVP Chicago debuted "The Odds Couple," and on it went.
But as of this month, the outlook changed dramatically, thanks to the coronavirus pandemic. The National Basketball Association and the National Hockey League suspended their seasons indefinitely. The NCAA cancelled its marquee event, the NCAA Division I men's basketball tournament. And Major League Baseball announced that the start of its 2020 season is delayed indefinitely.
Now these shows are charting their future courses. So what's a radio show on sports betting supposed to do when there are no sports to bet on?
Put that question to Tom Barton and Gary Pollakusky — the hosts of Sportsgarten Network's "Wanna Bet?!" — and you'll get a straightforward answer: stick to sports.
"It definitely has impacted the breadth of our programming," Barton and Pollakusky tell Inside Radio in a joint statement. "However, we have made a conscious effort to not bring on doctors and medical experts to discuss the pandemic to fill airtime. Instead we stick to sports and sports wagering."
Sure, there are no game-day odds to discuss, but that doesn't mean the hosts are sentenced to an existence of endless speculation about when the games might return. They're instead tackling topics of interest for sports fans and bettors alike, from futures plays to NFL free agency signings — with wagering tutorials still part of the programming offering.
The hope is that the show's relatively broader focus will enable it to remain viable where others might not.
"Their ability to pivot
their conversation to a broader array of topics may be stunted, as most of these shows do not have professional sports talk hosts that have handicapping backgrounds," Barton and Pollakusky say. "Most gambling-centric shows are so worried about concentrating on the gambling aspect of their program that they forget that their audiences are full of sports fans first. Their viability is predicated upon their knowledge base."
NBC Sports Radio, which produces "The Daily Line," has put the show's gambling component on hiatus for now. Host Tim Murray is now broadcasting from his home studio.
"With no live team sports on the schedule, this show is taking a general sports view, without a sports-betting focus," NBC Sports Radio says in a statement.
Dan Mason, who after leaving CBS Radio joined the Vegas Stats & Information Network — whose content airs on stations from coast to coast — says VSiN has had to roll with the changes.
"We have creative original programming with betting 'how to' shows," he explains, "and [we] have shifted to educational-type programming. We have a loyal audience that is like a community. They want to hear our hosts, which — similar to a radio station morning show — have become part of the family."
Scott Shapiro, VP
of Sports Programming for Premiere Networks (a subsidiary of iHeartMedia), which produces "Straight Outta Vegas with R.J. Bell," says he's confident that sports-betting shows are sustainable in the current market.
He notes that there are still a number of current stories with Las Vegas-centric angles, like NFL free agency and how those moves affect the market for NFL Futures, Super Bowl odds, over/under win totals and more.
Next month's NFL Draft, Shapiro says, will also provide an array of compelling angles from general sports and Vegas perspectives.
"R.J. Bell and his talented cast provide so much more thoughtful commentary beyond just X's & O's," Shapiro says. "The goal of the show is to make the listener smarter and think about current topics in an insightful way — whether they place bets or not.
"With the absence of day-to-day games, it allows the show to flex its muscle and connect with the audience in a different and more meaningful way," he continues. "The show has built up credibility with its audience in being familiar and trusted voices. Our listeners are now turning to these familiar voices for companionship and for an escape."
The absence of nightly pro sports, Shapiro says, is also providing something of a new opportunity for advertisers — to let them know that there's currently a "rare and opportunity" to entertain listeners who in many ways are looking for more than just the latest betting line.
"With radio being the most intimate form of media, we are providing exactly that — the intimate connection our audience craves," Shapiro says. "With athletic events on pause, there are so few places for the audience to get live sports conversation. This is exactly what we are providing. Advertisers have let us know that they love that we are providing an escape with live, personable conversation as there's an important purpose for it right now."
Source: INSIDERADIO