United Stations Partners with Sports Garten Network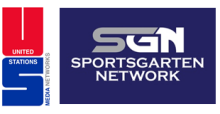 United Stations inks an agreement with Sports Garten Network (SGN) for the syndication of both long-form and short-form programming. The initial programs to be distributed to radio and sold to advertisers by United Stations are the weekend show entitled "Wanna Bet?! Weekend Edition" and a weekday feature called "SGN Best Bets." In addition to affiliates, the shows will also be heard on Gow Media's SportsMap Radio.
"Wanna Bet?!" is a daily program with a weekend edition that presents sports talk with credible wagering intelligence. Intended for both the casual fan and fantasy follower to the serious regular bettor, the show is an informative roundup of relevant weekly sports information. The "SGN Best Bets" feature is being launched as a daily short feature.
Both programs are hosted by Tom Barton, a sports analyst who has hosted sports programming on national radio and television and helped to build the ESPN sports radio brand. Barton has been a fixture in Las Vegas radio for over 10 years and as a sports/talk host on FOX Sports. He is also a long-time and respected sports handicapper who Gaming Today named "The Honest Handicapper."
"We are excited to be working with United Stations and Gow Media's SportsMap," said SGN Founder and CEO Gary Pollakusky. "The time is now for strong sports talk programming that incorporates respected wagering information. Sports wagering has already been legalized in 19 states plus Washington, DC and there is potential for an additional 20 states to be added as early as 2021. We're proud that, at this crucial time in the growth of this industry, Sports Garten Network is laser-focused on delivering sports entertainment content that incorporates credible wagering intelligence."
United Stations VP/Affiliation and Content Stefan Jones added, "We've been following the trends and searching for the right collaborators in the sports wagering space, and we're excited about this launch with SGN and SportsMap. They both have credibility and they both have an understanding of radio making them perfect partners."
Source: Radio Online